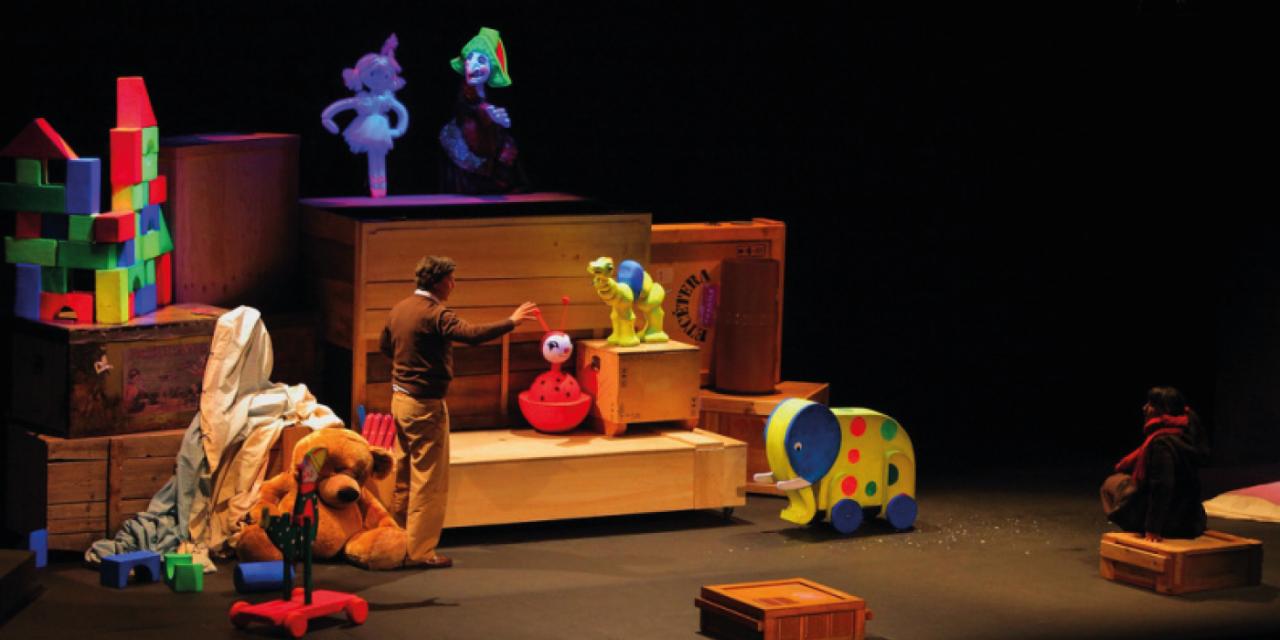 Otoño Cultural
Theatre
Infantil
Familiar
"La caja de juguetes", de Títeres Etcétera
Sábado, 23 de octubre de 2021 (19:00h.)
Un cuento musical pleno de ternura y humor. A partir de las obras musicales La boîte à joujoux de Claude Debussy y André Hellé, The children's corner y The little negro de Claude Debussy.
Una muñeca de trapo, bailarina, despierta a medianoche e invita a bailar a todos los juguetes que viven con ella dentro la caja. Aparecen un oso de peluche, un tentetieso, un batallón de soldaditos, un elefante sobre ruedas, un perro salchicha, piezas de arquitectura, un cocodrilo y un largo etcétera de juguetes. Entre todos ellos la muñeca prefiere a Polichinela, el títere de guante popular, porque él es mejor bailarín.
*Premio Nacional de Teatro para la Infancia y la Juventud 2014
Dirección de escena, escenografía y títeres: Enrique Lan

Iluminación: Lía Alves

Pianista: Jorge Camacho

Actriz: Yanisbel Victoria Martínez

Titiriteros: Noemí Galindo, Enrique Lanz y Leo Lanz
Information of interest
Teatro Principal, Calle Burgos, 3, 34004 Palencia
Opening times:
Sábado, 23 de octubre de 2021
Un pase a las 19:00h.
Duración de la obra: 50'
Ticket information:
ENTRADAS (NORMAL | REDUCIDA)

Numerada

Adulto 6 € | 5 €

Niño 5 € | 4 €

(Recomendado para mayores de 4 años)
* Venta anticipada:

Días 6, 7 y 8 de Octubre y todos los días de función.

Horario de 12:00 a 14:00 h. y de 18:30 a 21:00 h.

Puntos de venta: Taquilla del Teatro y en www.teatroprincipaldepalencia.es
* Se limita a un máximo de 4 la adquisición de entradas por persona y por función.
* Los jóvenes menores de 25 años, desempleados, familias numerosas y mayores de 65 años podrán disfrutar de BONIFICACIÓN presentando en la taquilla del Teatro Principal sus correspondientes carnés. Dichos carnés habrán de mostrarse junto a la entrada, para acceder al Teatro.
You might also be interested:
Contenedor intereses vinculados